posted by studiovc on January 24, 2012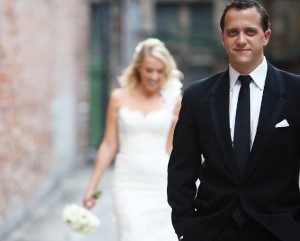 Many of today's couples have chosen to disregard the old superstition of the groom not seeing his bride before the ceremony on the day of the wedding.
The History: Many people believe this to be an age old tradition that they must abide to but in truth it is just superstition that it can supposedly bring "bad luck" just as much as having rain on the wedding day may bring "good luck" to the marriage.
The superstition originates from a time when most marriages were arranged and the groom didn't even know who he was marrying. Back then there was a possibility that he may take one look at her and decide not to proceed with the marriage, so parents wised up to this and made it so the first time he ever saw her was at the altar, thus placing more pressure on him to marry her! This is a custom that is not required by any religion as arranged marriages are very rare these days.
In fact, in the old days it was customary for the soon-to-be married couple to accompany each other on the walk to the church on their wedding morning.
The Present: In modern times this prearranged meeting known as the "First Look" has become a special moment in weddings. This is usually coordinated with the photographer to find a somewhat secluded, private space that the couple can meet. Often the groom has his back turned towards the bride as she walks up to greet him. Once the two meet they share an intimate moment that can be beautifully captured by photo + video.
We find that this meeting before the wedding ceremony releases so much of the built up tension, nervousness, and anxiety for the couple.
One of the added benefits of having the First Look before the ceremony is that you now have the opportunity to take photos together. Many times the couple will choose to also take family and formal photos in this time period so after the ceremony they can go straight to the reception or cocktail hour.
Another benefit of having the First Look is that it's highly unlikely you will be late to your ceremony as you've already been dressed and ready well before the start time.
If you choose to have a First Look it's important to coordinate this with your photographer, videographer, and/or wedding coordinator so as to allot enough time for all of the events to take place.
To see a few of our First Looks watch this short video below…

?>