posted by studiovc on March 26, 2012
My personal wedding experience from the other side of the lens
by Joe Taravella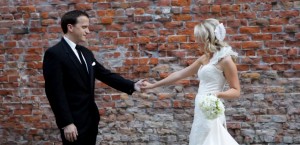 I've been filming weddings since I was 16 years old. I started out manning a second camera for my mother in the balcony of churches with minimal knowledge of what I was doing. Before I turned 21 I had attended more weddings than most people do in an entire lifetime. This experience made me look at weddings differently than most people do. I always saw the bride and groom like they were born for this occasion. It was almost as if they assumed the role of bride and groom and knew everything to expect, like they had been there before.
When it came time for me to get married I found an entirely new appreciation for what a wedding means not just to the bride and groom, but to everyone involved.
I (finally) proposed to Jeana, my wife, on March 20th of 2011, it was on her birthday and the two year anniversary of our first kiss. I say finally because in hindsight my only regret was that I didn't propose sooner.
After the initial rush of congratulations and well wishes from everyone it was time to get down to business of planning a wedding. We had contemplated so many different ideas, everything from eloping, to a small intimate wedding, to a full scale celebration. After much conversation and determining our  budget, we decided  to celebrate our wedding in my hometown, New Orleans, and invite as many of our family and friends possible.
The Planning…
The first step was of course choosing a date. This was a very difficult decision as I am usually filming weddings on weekends for much of the year. The optimal times that we would've loved to get married in were of course the busiest times of the year for our business. After considering all options we decided to get married in September,  this was a time period where weddings usually slow down due to Hurricane Season. But, it meant we had only 6 months to plan an entire wedding! Even with the shortened time limit I felt with my knowledge of the industry and Jeana's persistent work ethic that we could have everything that we wanted for that day.
The months leading up to the wedding had every moment of our schedules filled. There are so many decisions to be made in this process and one of the things I never knew is how much you have to depend on other people to get things done. Even though I had years of experience from documenting so many weddings I never really got to see the planning process in it's entirety.
Luckily we had a lot of help from Jeana's bridesmaids, her mother Marci, and my mother, Terry.
Without all of their combined efforts things would've been incredibly difficult to get everything done.
The Wedding day…
On the day of our wedding I wasn't as nervous as I was expecting I'd be. I think all of the legwork leading up to that day made me feel a sense of relief that the day was finally there and there was nothing else to cross off of my checklist.
Since I put myself in charge of our photobooth I woke up early to head to the Board of Trade which was just a block from the Omni Royal Crescent hotel, where I was staying.
After I got that all set up I headed back to my hotel room to prepare a gift to give to Jeana when I saw her.
Since my line of work is all about storytelling and displaying how life events unfold, I wanted to give her something that reminded her of "our story", something that she could look back on and always know where we came from years after we'd been married.
I decided to collect all of our email correspondence, chats, text messages, and put them in a handmade journal I purchased from Romania. I got a little nostalgic reading back over them and seeing how our relationship grew from simple flirting to the point that we were at now about to commit our lives to each other forever.
When it was finally time for us to have our "first look" I started to get nervous. I wanted everything to be perfect and it was. As she walked up to me in the video I can see myself take a deep breath as I knew when I turned around there she would be and that would be the next chapter in my life as a married man with my bride standing before me.
When I turned to look at her, all of the tension that had built up over the previous 6 month engagement was released. I have documented hundreds of brides in my profession but there was no doubt in my mind she was the most beautiful of all.
I gave her the gift and she was overjoyed with it as she's always valued personal, handmade gifts over those that are purchased.
We were able to have a moment and take some photos before it was time for the Ceremony, which was great. We wouldn't have gotten a chance to have such great portraits of ourselves in our wedding attire if we'd have waited till after the ceremony.
The Ceremony was intimate just like we wanted. Her father, Scott, was a pastor at a church for 25 years … he walked her down the aisle, put her hand in mine, then took over officiating the ceremony. He was very gracious and I took in every heartfelt word he spoke.
Breaking from tradition, we decided to swap sides that the bride and groom normally stand on. Instead of me being on the same side as my family , I stood opposite them. This way we would be facing our respective families when it came time for us to say our vows as opposed to our families seeing the back of our heads during the ceremony.
I've heard so many people say that your wedding flies by and you won't even remember it but I feel like we were able to enjoy every minute of it. Everything was so well organized thanks to Brittani Adams with Unique Weddings in New Orleans that we were able to just enjoy ourselves and be with our friends and family.
After going through the entire experience from planning to celebration, I have to say that everything was well worth it. All the decisions that had to be made, so many hours spent researching so many different topics … all came together in a special harmony of love and laughter. One thing Jeana wanted was for people to see "us" in our wedding details … she wanted them to see that we were represented by the decisions we made. Everything from the music, to the flowers, to the little details at the guest sign in table we felt represented who we are and did not look like we were filling in the blanks because it was expected of us or that it was the norm or tradition.
The photos and video will be the most treasured reminders going forward of that day and I'm so happy we will have those to look back on and share with our children in the future.
In conclusion the best part about our wedding for both of us was having our family and friends there with us to celebrate that day. No other time in our lives will we be surrounded by so many people that we love. I would'nt have had it any other way.
Check back next week for my take on all of our fabulous, professional vendors … Viewing our wedding photos for the first time with Doug Keese & Cheyenne Bradfield, "photographer's extraordinaire" @ their  Arte De Vie studio was quite the experience.
Click below to see a short retrospective of our wedding. Filmed by Daniel Boswell of Imagique Weddings and edited by Studio Vieux Carre.
Joe & Jeana wedding trailer from Studio Vieux Carre on Vimeo.
Ceremony & Reception : The Board of Trade,
Photography : Arte De Vie Photography, www. artedevie.com
Video :
Filmed by Dan Boswell of Imagique Weddings www.imagiqueweddings.com
Edited by Studio Vieux Carre www.studiovc.com
Flowers : Fat Cat Flowers, www.fatcatflowers.com
Coordination : Unique Weddings in New Orleans, www.uniqueweddingsinneworleans.com
Hair & Make up : Flawless Bride, www.flawless-bride.com
John's Tuxedo's : http://johnstuxedos.com/
Ceremony music : Chamber Music Enterprises, www.chambermusicenterprise.com
?>