posted by studiovc on August 4, 2014
When Larae + Ross chose us to film their wedding day they went big. They chose the "Fleur De Lis" package that covers the rehearsal dinner speeches. This gave us a great opportunity to get to know the couple's story and also it familiarized us with the important people in their life.
Some of the stories and statements were so hilarious it was hard at times to see the screen through the tears from laughter!
When the wedding day arrived, the weather was not cooperating. However, Larae + Ross had the perfect demeanor as they didn't let the rain bother them and totally embraced this time.
The Ceremony, held at St Louis Cathedral was followed up by a second line parade back to the Royal Sonesta
Vendors:
Wedding Planner – Kelly Sherlock
Wedding Photographer – Arte de Vie
Bridal Prep and Reception location: Royal Sonesta
Wedding Band – Still Cruisin
Florist – Bee's Florist
Makeup – Make Me Up
Hair – Kiss and Make Up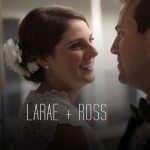 Larae + Ross :: Wedding Trailer from Studio Vieux Carre on Vimeo.
?>