posted by studiovc on May 7, 2012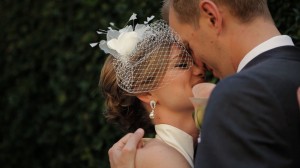 We had the honor of filming the wedding of New Orleans wedding photographers Doug + CheyAnne of "Arte De Vie". Doug proposed to CheyAnne in December of 2010 and we were there to capture that as you'll see in the beginning of their trailer.
Like so many couples who get married in New Orleans, many of Doug + CheyAnne's friends and family had to travel to the city for the wedding. We took the opportunity with their wedding to show how we can help preserve the entire wedding weekend experience that goes beyond just the wedding day.
The wedding rehearsal was held on Thursday evening in Jackson Square followed by their rehearsal dinner which took place at the Maison Dupuy hotel.
On Friday there was a typical New Orleans crawfish boil that the couple hosted at Audubon Park. This gave all of their guests a chance to have a truly unique Southern experience and it also gave everyone a chance to get acquainted with one another before the wedding.
On the wedding day both Doug and CheyAnne got dressed at the Maison Dupuy hotel then headed over to Jackson Square for their first look. Breaking from tradition, CheyAnne decided to take a pedicab to her first look while Doug made his way through the French Quarter on foot.
The couple tearfully recited their vows in front of the St. Louis Cathedral in Jackson Square and danced down the aisle following the ceremony.
The reception at the Bourbon Orleans hotel was rockin from the start as Groovy 7 put on an amazing performance.
Doug + CheyAnne performed their choreographed dance beautifully and then CheyAnne and her bridesmaids performed their version of Michael Jackson's "Thriller" dance.
Then in a first for us, Doug played guitar and CheyAnne played drums to AC/DC's "Shook me up". CheyAnne actually took drum lessons for months from Groovy 7's drummer Tony Seruntine to be able to play drums for the performance.
The only thing that could set this wedding over the top was an epic Second Line through the French Quarter. The Young Pinstripes band joined in the reception and performed "Party Rock" alongside Groovy 7 before heading out into the streets. Once in the streets the Second Line journeyed through the French Quarter stopping several times in the middle of Bourbon Street for a breakdown dance off . The Second Line ended back at the Maison Dupuy and we caught our breath.
After the entire experience we can say that this New Orleans couple lived their wedding weekend to the fullest. These two individuals are truly a credit to our great city and we're honored to be able to preserve the memories of the entire weekend for them to enjoy for years to come.
Enjoy the trailer below!
-StudioVC team
Vendors for Doug + CheyAnne's wedding weekend
Wedding Coordination: www.sapphireeventsnola.com/
Video: www.Studiovc.com
Photography: www.Staceyreeves.com
Flowers: www.nolaflorashop.com
Reception venue: www.bourbonorleans.com
Host hotel/rehearsal dinner: www.maisondupuy.com
Second Line Band: www.facebook.com/YoungPinStripe
Reception band: www.Groovy7.com
lighting: www.abstractproductions.net
hair & makeup: www.flawless-bride.com
grooms suit: www.georgebass.com
Music licensed by:
www.triplescoopmusic.com
www.themusicbed.com
?>